Monthly Archives: November 2015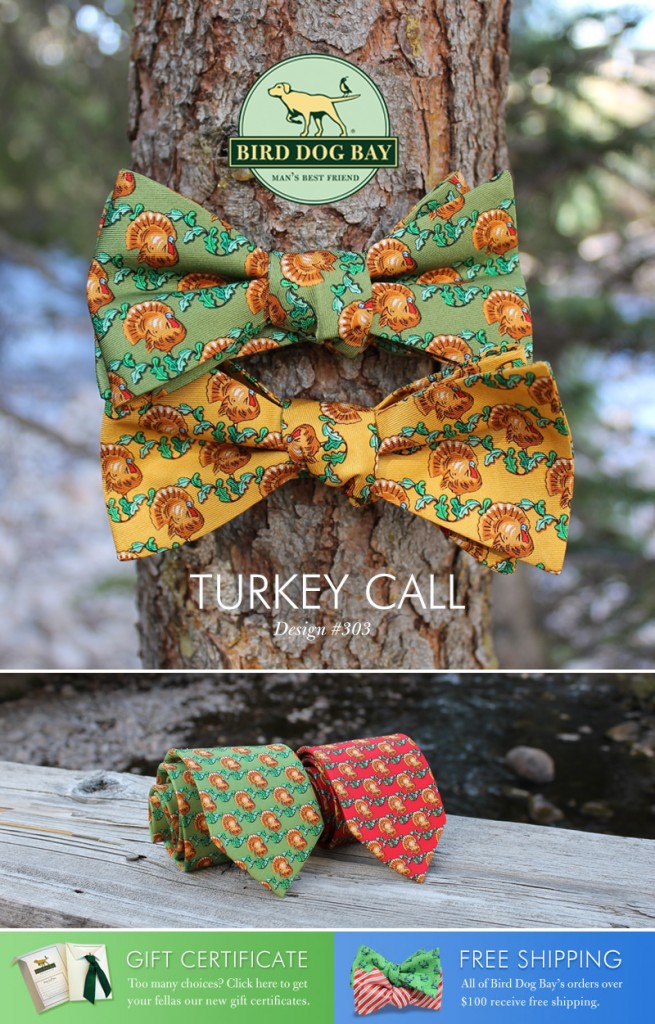 The Fall/Holiday collection is always an exciting one at Bird Dog Bay. Alongside featuring the bulk of our sporting themes, we're also able to include a number of silks which work perfectly with the season. And while it seems every tie company has a Christmas tie or two, it occurred to us a few years back that not everyone offered a choice for Thanksgiving–enter our "Turkey Call" tie!
While "Turkey Call" is our latest offering, it certainly isn't our first. For a few seasons prior to this, we offered a tie called "Turkey Trot," featuring a tom and two hens. While a wonderful choice, we returned to the drawing board this season with "Turkey Call," and like to think we've done pretty well!
Featuring a tom placed on garland, "Turkey Call" is a step and repeat pattern that is available in gold, red, and olive. Perfect for the season, "Turkey Call" is best worn with a navy blazer or your favorite tweed sport coat, and guarantees you won't look like a turkey yourself this fall!
While our bread and butter has long been our special brand of sophisticated whimsy, our traditional and classic ties are just about the most handsome on the block. With both printed and woven options available, our ties feature stripes, neats, geometrics, and more. Perfect for a formal occasion or the man who's a bit on the tame side, we have the ideal choice for anyone. Shop our full selection today online at birddogbay.com!