Our Fly Links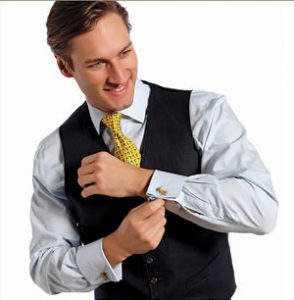 Steve beat himself up for months trying to figure out how to reinvent the cufflink all while continuing to stay focused on fine outdoor themes. He was confident that he wanted to manufacture something that was hand-crafted by artisans similar to himself, but it needed to be inventive enough to stand on its own next to his tie designs. Lightning struck one Sunday afternoon, while he was cleaning out our storage room when he came across his grandfather's antique bamboo fly fishing rod. He dropped everything and went straight to his design studio and started sketching feverishly.
Six months and several failed prototypes later, we're thrilled to introduce Bird Dog Bay's Fly-Links. After combing the country to find the right two craftsmen to help bring his creation alive, Steve ended up finding his two artisans in our hometown of Chicago, Woodsmith-Karl and Fly-Tyer-Jon.
The first step in creating our Fly-Links starts with Karl, who creates the hexagonal-shaped bamboo toggles which are typical of a handcrafted rod. He then adheres the snake guides with rod wrapping silk thread and varnishes the finished piece. Jon then takes Karl's completed toggles and ties our twelve wet, dry and bonefishing flies to a sterling silver loop that is adjoined to the toggle by a sterling silver clasp. He concisely uses the most durable, authentic materials he can source so that our Fly-Links will have the longest possible shelf life. Jon ties the flies so that each set are finished for a left and right handed French cuff sleeve. The finished sets are housed in Karl's handmade vertical grain laminated bamboo boxes. Our Bird Dog Bay logo is laser engraved on the lid before Karl hand-rubs an oil and wax finish to the completed piece. Each set is a true work of art and should be treated that way whether they're worn to a black tie event or simply stored in our custom box. We hope you dig them as much as we do, and, yeah, they may be a little ostentatious, but you can't argue they make one hell of a visual statement.