Monthly Archives: April 2014
"Last Sunday was a double whammy of a day. Some people embraced the warm weather, opting for yard work or an outdoor BBQ. Other folks–yours truly included–watched Bubba Watson pull away from Jordan Spieth to claim his second green jacket in three years. And while Sunday was great for The Masters, the warm weather, the return of "Mad Men," and so many other things, Sunday was also good as it was Palm Sunday–meaning Easter and candy was one week away.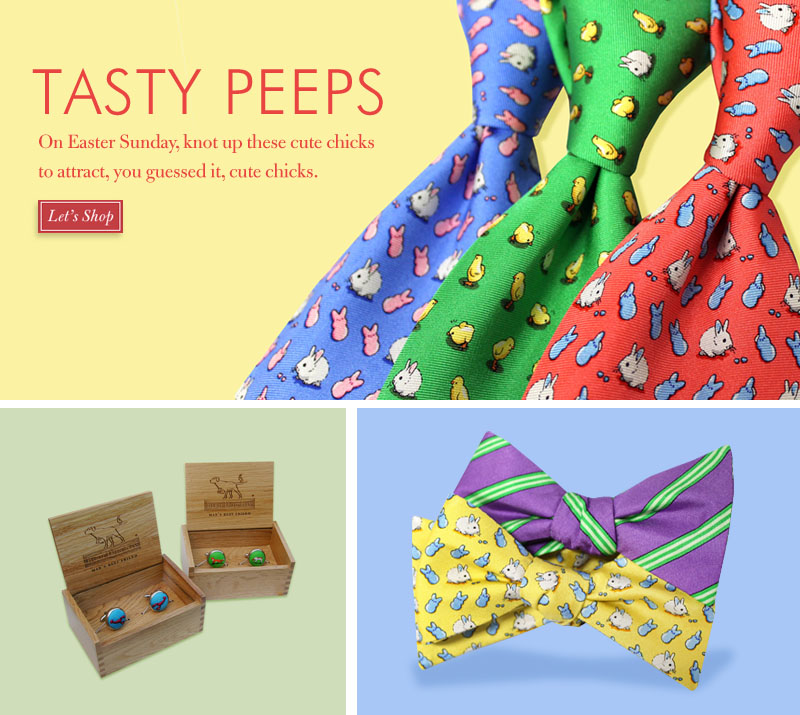 Easter, as I've come to learn, is a big holiday around Bird Dog Bay; not for any real reason, save a widespread love of sweets and the opportunity for Steve to draw another handsome Spring tie. Featured below are two offerings–"Tasty Peeps" and "Easter Tie"–which are available in our studio now, just in time for this Sunday's festivities.
The first, "Tasty Peeps,"  is our new offering for Spring 2014. Available in coral, yellow, and blue, this tie features a bunny and his ideal meal, a couple delicious Peeps. This tie is an absolute perfect choice for any occasion next Sunday, providing an air of personality without being outrageous. Its repeating pattern exudes an air of formality, but upon closer glance, features nothing but the Easter Bunny and the classic marshmallow treat.
Another Easter tie, titled, well, "Easter Tie"  is another option for this year. While Steve's title is a bit basic, the tie is anything but, featuring cute chicks and the occasional bunny. Originally done for Spring 2013, the design proved to be a mainstay in our collection, the perfect accessory for those desiring a bunny tie or chicken tie in his Easter basket. "Easter Tie" is available in Green and pairs perfectly with a navy blazer, oxford, and loafers.
If "Tasty Peeps" and "Easter Tie" are a bit too much for you, as always, Bird Dog Bay has you covered. Other great seasonal options include "The White Stripes" or "Neapolitan Plaid," each in an array of colors, for a more formal look. Regardless, whether next Sunday's plans include a trip to Mass or a get-together with friends and family, make sure to knot up with one of Bird Dog Bay's Easter ties to attract cute chicks or some-bunny special."
Zachary Workman
We here at Bird Dog Bay pride ourselves on being something along the lines of Renaissance Men. Perhaps not in the classic sense–we do appreciate both the sciences and the humanities, mind you–but in a more modern sense: one of never being out of place. From the outdoor barbecue and suds get-togethers to the champagne-glass-and-pinky-out affairs, we like to think we can get by almost anywhere, especially when accompanied by our silk goods.
Speaking of those upscale shindigs: why the bad rap? Too often, gentlemen to whom we've spoken complain. From the tux and stud set to the stiff conversation, it seems as if all fun is absent when made to gussy up. Ever want to jazz things up a bit? Stick it to the man? If so, Bird Dog Bay has you covered for your next formal event with our one of a kind cummerbund sets.
Featured above are three of our most popular designs: Pink Elephant, Stars & Stripes, and The White Stripes. Each has a unique flavor and sense about it; depending on your personality and interests, which one suits you?
Ah, it's that time of year–the time where some abandon schoolwork, others abandon real world work, and all descend on warmer climates for a week of sun and relaxation.
While Bird Dog Bay is undoubtedly rooted in some more formal settings, we nonetheless have a variety of goods which can serve one well in the sand or dinner at the club. Featured below are a few of our goods tailored for this time of year, all of which are available at online at http://www.birddogbay.com.
The first item is our ever popular Gus Cap.  Featured in five different colors with a leather adjustable strap, our Gus Cap is named for none other than Bird Dog Bay's favorite misbehavin' four-legged friend. Perfect for those warm rays, the Gus Cap will do a fine job of keeping the sun out of your eyes whether posted up with a cold one in the sand or a stogie on the front nine.
Perhaps a visor is more your style? We've got those featured, too. 

While many of us don caps while out and about on the town, there are those who don't … and there are also those whose hats are commandeered by their significant others! To ensure your Bird Dog Bay fix is accounted for, however, we also offer our Embroidered Gus T-Shirts!  Like our Gus Caps, the Gus Tee is ideal from the trip from your cabana to the waterfront. Featured on the front left breast of the shirt is again our famous Gus, and this showcase will ensure you're "top dog" in the waves.
Many spring break destinations are chosen to shed the jackets and ties of corporate life; rest assured, however, if you need to "put on the dog" for a nice dinner out, we have you covered, as well.
Up first is our new "Shark Week" tie.  New from our Spring/Summer 2014 line and coming in coral, turquoise, and blue, "Shark Week" is the perfect whimsical twist for a seaside venture. "Shark Week" features both Great White and Hammerhead sharks, not to mention the inclusion of a small Scuba Steve, too!
While "Shark Week" is a surefire winner, perhaps you've opted to visit Amity Island and don't wish to revisit the summer of '75. In this case, our "Neapolitan Plaid" tie, also from our Spring/Summer collection, is definitely up to the task of keeping you in order.  Available in green, pink, yellow, and blue, this tailored take on a classic plaid allows one to stand out in just the right way, perfect with a navy blazer and oxford at a seaside dinner.
No matter the location and no matter the setting, Bird Dog Bay has you covered for every occasion. Make your Spring Break a memorable one with Bird Dog Bay.