Custom Neckties
At Bird Dog Bay, we take pride in the look and design of our ties. Why, you may ask? Well, the answer is simple. We love what we do. It brings us no small amount of joy to know that men across the country can count on us when it comes to adding style and flair to their wardrobe. From shirts to cummerbund sets, our quality can't be beat. Passion and care go into each and every one of our products. Consider our neckties; each one is made from 100% silk and features hand-printed designs care of our founder and illustrator, Steve Mayer. We love our ties, and we know you will too.
In honor of our extensive necktie collection, we started a series all about the art of the tie knot. So far we have covered the Windsor and its smaller cousin the Half Windsor. Today we are going to continue our special series on tie knots with the Pratt Knot.
The Pratt Knot
The Pratt Knot originates in the United States during the 1940s and was a common enough knot throughout the following decades. But the knot really gained popularity in the 1980s when Jerry Pratt, a former employee of the U.S. Commerce Department employee showed up at a local news station on a mission to fix news anchor Don Shelby's tie. The story goes that Shelby fell in love with the knot, and it was he who made the knot famous. That is why the knot is sometimes referred to as the Shelby Knot or the Pratt-Shelby Knot.
Wearing the Pratt-Shelby
This knot can be worn in a variety of events and circumstances, be they semi-formal or formal. It is a medium-sized knot that works well for men who have moderate proportions. It is a good option for men who are essentially dwarfed beneath the weight of a Full Windsor Knot. It works best with medium to lightweight fabrics.
Bird Dog Bay ties are always Best-in-Show. Designed with attention to detail and dedication to the highest quality, we know you'll look and feel great with our hand-printed, hand-crafted ties. Shop our collection today!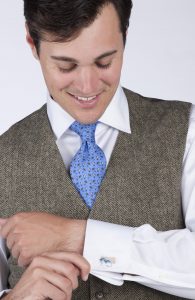 Here at Bird Dog Bay, we want for each man to enjoy the style and confidence that comes with wearing a tie. Ties are a cornerstone of men's fashion, and no one should go tie-less because he doesn't know about the many fantastic ways to tie a tie knot. In our last post, we took a closer look at the Windsor Knot. If you missed it, here is a brief rundown:
The Windsor is also known as the Full Windsor or the Double Windsor

It likely originated with King George V of England

The Windsor is a wide knot, suited to wide, thick ties

Men with longer necks benefit from the width of the tie as it shortens the perceived height of the neck
This week, we are going to move on to the next knot in our series, the Half Windsor.
The Half Windsor
The Half Windsor, otherwise known as the single Windsor knot, produces a trim, neat, triangular knot. It is similar to its cousin the Full Windsor, but it is less bulky and better suited to fabrics that are more lightweight and less thick. It is a better knot option for men who have a broader chest as is uses less of the tie than other knots. Here are some of the other attributes of the Half Windsor:
Medium in size

Symmetrical knot

Produces a deep dimple

Business appropriate

Easy to learn

Plays well with point collars, medium spread collars, and button down shirts
Bird Dog Bay has a fine pedigree and we always take Best-in-Show. All of our ties are 100% silk, hand-printed, and hand-constructed to ensure the highest quality possible. Shop our collection today!
Ties are a men's fashion staple. They are the foundation upon which all other fashion depends. Whether it's formal wear or for the workplace, neckties are the element that brings cohesion and style to every outfit. Every style-conscious gent should have a signature collection of ties ready to go at a moment's notice. One very common reason why some guys hesitate to incorporate ties into their wardrobe is that they don't know how to tie a tie. Some (we shudder to think) aren't even aware that there are several different ways to tie a tie. At Bird Dog Bay, we believe that every man has a right to look and feel his most dashing. That's why we are proud to offer such a wide selection of hand-printed, hand-constructed, 100% silk ties, and it's also why we have decided to write this series. No man should go tie-less for the simple lack of knowledge. So without further ado, we are proud to present the Windsor knot.
The Windsor Knot
The Windsor, otherwise known as the Full Windsor or as a Double Windsor, is thought to have originated with Edward III, Duke of Windsor. However, it is actually more likely that the knot comes to us from his father, George V who was particularly partial to wide knots.
When tied correctly, the Windsor knot is comfortably tight and won't slip away from the collar throughout the day. Symmetrical and well-balanced, the Windsor knot is perfectly paired with patterned ties as it will display the print nicely. This particular knot looks great on men with longer necks, as the width balances out the length.
Stay posted until next time! We will be taking a closer look at the Half Windsor Knot. In the meantime, for all of your men's fashion accessory needs, shop Bird Dog Bay. Browse our selection today!
Our ties are always Best-in-Show. Shop Bird Dog Bay ties today!